Silver of the Aegean
8-days geologic walking and study tour to Athens, Laurion and Milos Island, Greece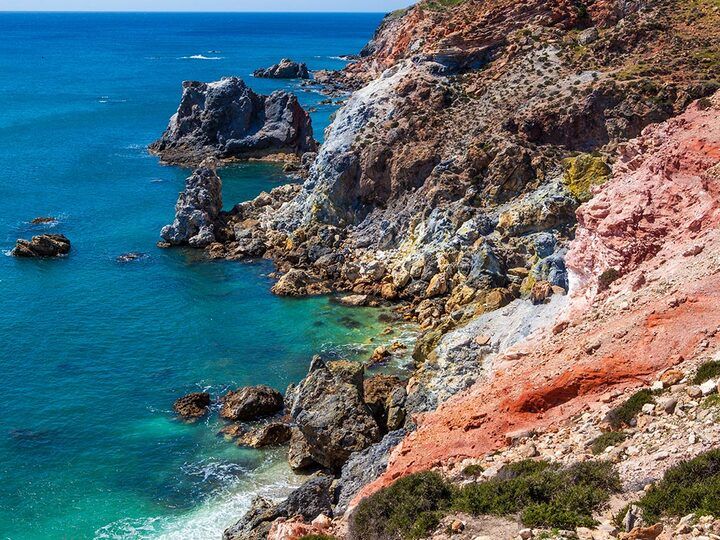 Volcanic colors of the coast (c) Tom Pfeiffer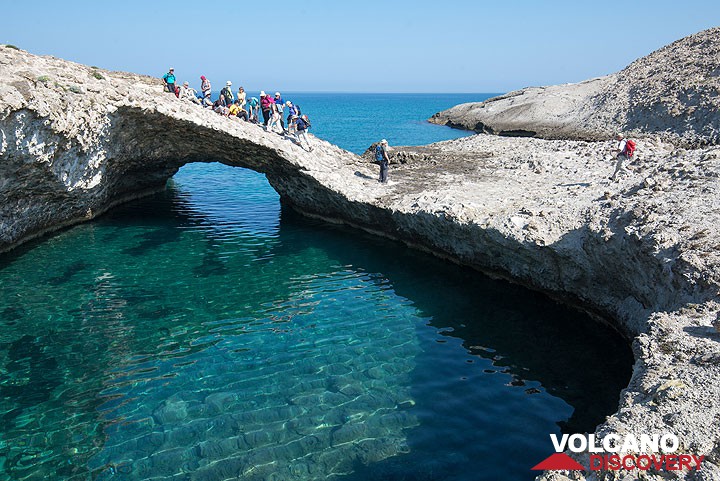 The pumice bridge (c) Tom Pfeiffer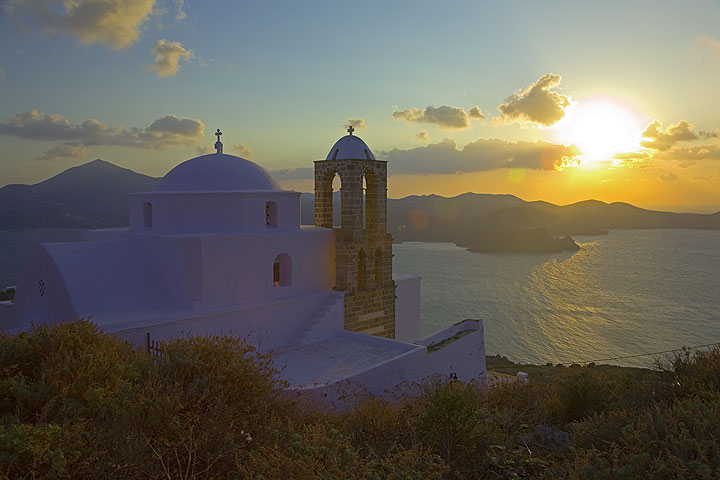 The church at Palaka (c) Tom Pfeiffer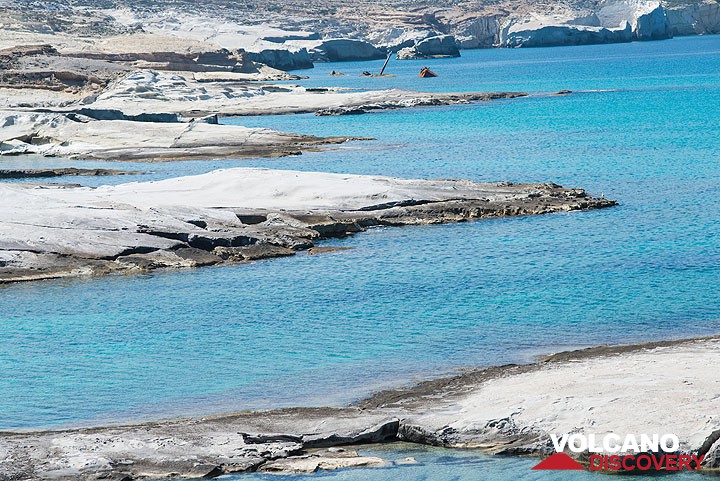 The northern coast of Milos (c) Tom Pfeiffer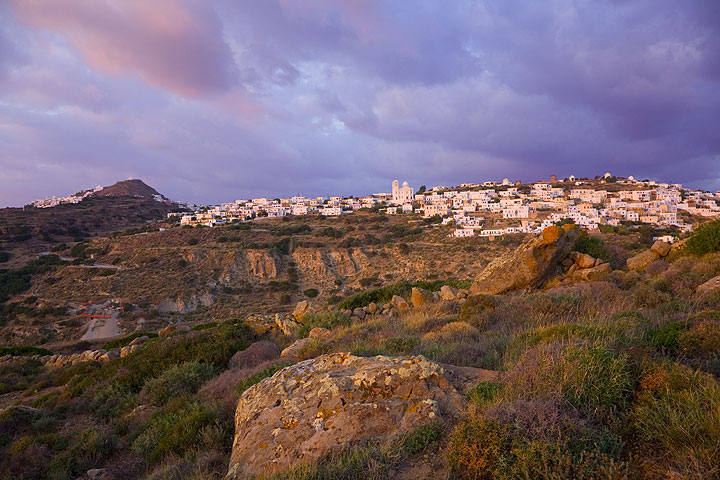 Plaka village (c) Tom Pfeiffer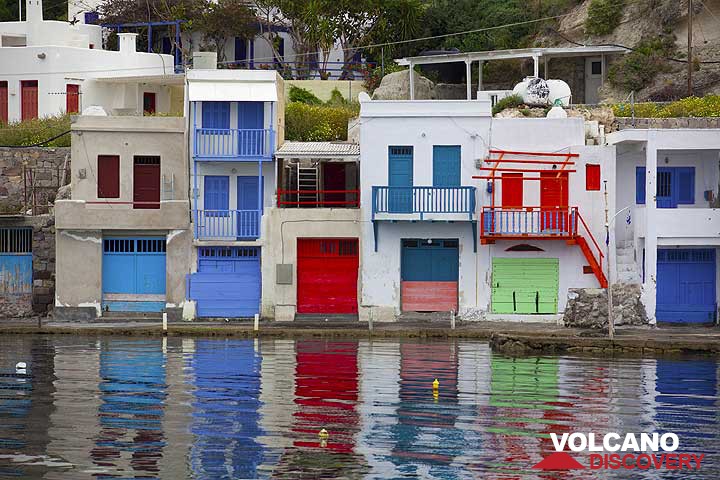 Klima fishing houses (c) Tom Pfeiffer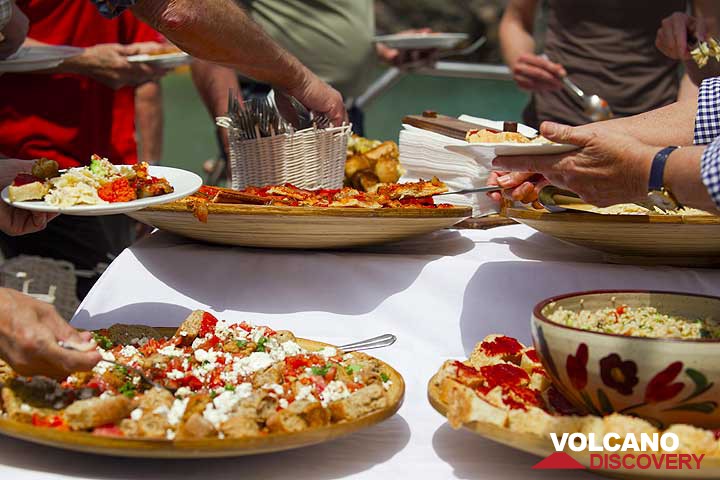 Delicious food on the boat (c) Tom Pfeiffer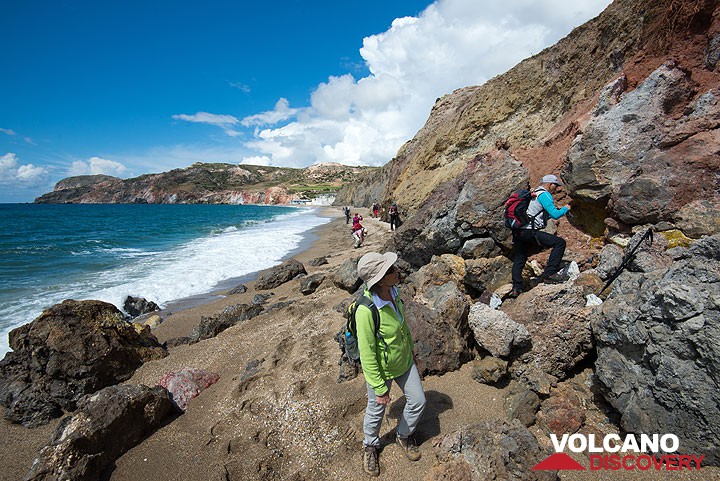 Paliohori coast (c) Tom Pfeiffer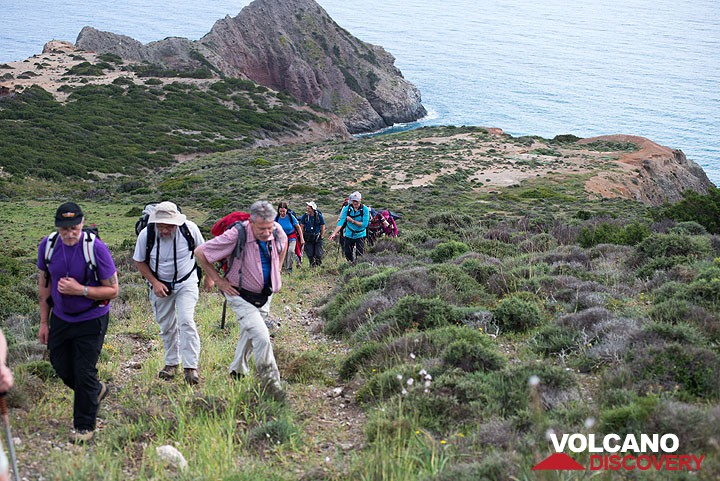 Hiking on Milos (c) Tom Pfeiffer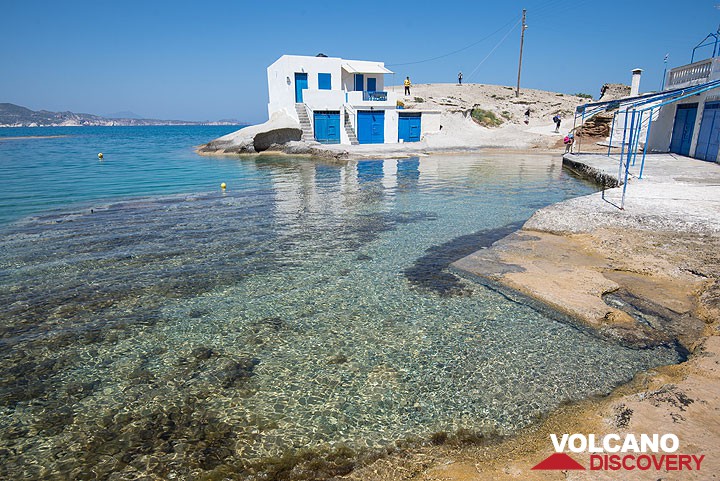 Boat houses at the north coast (c) Tom Pfeiffer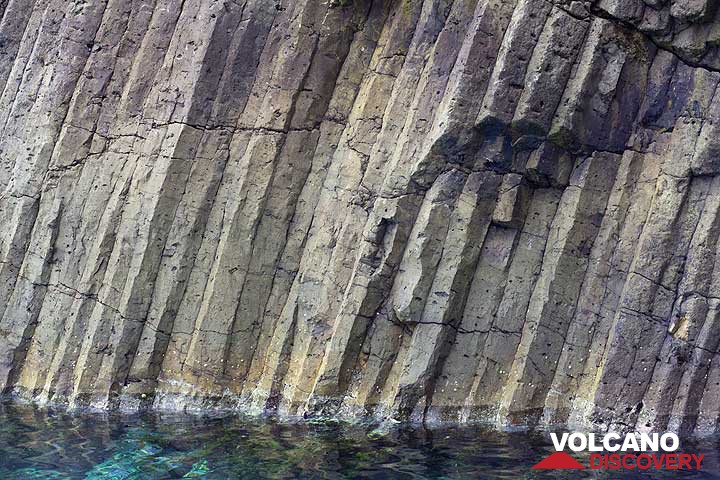 Basaltic columns at Glaronisia (c) Tom Pfeiffer
Milos in the western Aegean is one of the most beautiful and photogenic islands of Greece.
Known for one of the most famous classic statues, the Venus of Milos (now in the Louvre of Paris), Milos is exceptionally rich in mineral deposits, and has a
particular scenic beauty
that leaves visitors breathless. It also boasts a great number of superb and uncrowded beaches, as well as spectacular coastal cliffs with multicolored volcanic rocks of all types on display.
Even so, its millennia-old economic base in mining has prevented it from mass tourism. The island is a wonderful destination for both active and relaxed holidays. and Greek hospitality is still very much alive here.
Geologically, Milos is a wonderland packed with
picture-book volcanic features
. On a series of different excursions by land and sea, guided by a trained geologist, we will
explore the faceted volcanic history
of the island through observation of their deposits. No previous knowledge is required, and the excursions are - as usual - a mix of hiking, sailing, study, and holidays. Great local Aegean cuisine and good company round out this tour, which can be perfectly combined with our
study and walking tour on Santorini
.
Spectacular varied scenery
Colorful volcanic deposits
Rich mining history (obsidian, perlite, kaolin, sulfur, manganese, baryte)
Opportunity to collect minerals
Prehistoric and Ancient Greek remnants
Active hydrothermal activity (fumaroles etc)
Private boat-trip around Milos
Delicious local cuisine
Competent geologist guide
Laurion & Milos: 8 days
Day 1:

Arrival in Athens

Own arrival in Athens. In the evening, meeting in the for a dinner in a cozy tavern in the historic center of Athens.
Day 2:

Sightseeing of Athens & Acropolis & new museum

Round tour in Athens center with ancient Acropolis and its new museum
Day 3:

Ancient mining in Lavrio

A tour to Europe´s ancient mining center Lavrio
Day 4:

Flight Athens to Milos - Ancient Acropolis of Milos - fishing village Klima

Flight to Milos Island in the morning. In the afternoon, visit of Plaka, the main town of Milos, visit of the archeological museum and the Ancient Acropolis with the place where the famous statue of Venus has been found. On the way back to Adamas and our hotel, we will walk to the area where in prehistoric times the volcanic glass obsidian was mined.
Day 5:

Prehistoric obsidian and the Sarakiniko coastline

On Milos, the history of mining goes gback to prehistoric times, even as far as around 3000 years B.C.! People were digging for volcanic glas (obsidian), for sulfur and for alunite, sending their products by ship to all over the Mediterranean. The most important

prehistoric town Phylakopi

, situated in the northeast of the island is our first target today. We visit the Ancient city walls of Phylakopi and also the site where

obsidian tools

were once produced (many pieces on the ground can still be found).

Then we

walk along the coastline to some of the most beautiful bays of Milos

, like Agios Konstantinos (with a chapel in the underground), Papafrangas, Mytikas and Sarakiniko. After swimming, exploring the spectacular scenery etc. a taxi will bring us back to hotel.
Day 6:

Mining museum, sulphur mine and active fumaroles

4x4 jeep excursion to various interesting sites, e.g. an old sulphur mine and the active fumaroles of Kalamos inside the Tsingrado volcano complex
Day 7:

Spectacular boat trip around Milos and to Kimolos Island

Free day - a great option is to take full-day boat tour around the island with its spectacular volcanic coastline (approx. 50 EUR per person). Delicious lunch on board. Free evening.
Day 8:

Return to Athens - end of tour

Our tour ends today with transfer to the airport and the short fly back to Athens. If there are not enough tickets for the small airplane, we will sail back to Piraeus by ferry boat. In this case we will inform you in time to stay one day longer in Athens to catch your flight. Alternatively, you could stay a bit longer on Milos or go to another island ... depending on time, there are many options.
Arrival info:
The tour starts and ends on Milos island. Milos can be easily reached by plane from Athens (Olympic / Aegean) or by ferry from Pireus and many other islands (see Greek Travel Pages).
Tour type:
Walking & study tour: photography - geology & volcanism
Difficulty:
Easy to Moderate
Group size:
4-10
Duration:
8 days / 7 nights
Dates:
no scheduled dates at present
Price (per person): 1480 € $£¥
Included:
7 nights accommodation in double room
Full board (except 1 dinner) incl. drinking water, wine, soft-drinks, coffee/tea
Domestic flight from Athens to Milos
Excursion to Lavrio
Transfer Athens city to airport
All transfers from and to Milos airport / ferry port
All transfers by taxi, jeep, bus and boat on Milos
1 day boat trip
Entrance to museums etc
English-, German-, and Greek-speaking geologist or photographer guide
Tour guide:
The tour is normally guided either by German volcanologist Dr. Tom Pfeiffer or photographer and amateur geologist Tobias Schorr. Both have been traveling on Santorini and Milos for more than 20 years and know the islands better than even most local people do.
Tom completed his PhD studies on the topic of the great Minoan eruption of Santorini. He made the important discovery of a 3600-year-old olive tree buried alive in the pumice deposit that now can be seen in the small geological museum in Perissa.
This allowed the most precise dating of one of the most significant natural event in the Bronze age (to 1613+-13 years BC) so far.
His colleague Tobias, with whom Tom alternates on this tour, is a true specialist for Greece in general, boasting in-depth knowledge about its culture, history, people, flora, fauna and of course geology. He is known for his good eye and discoveries of rare minerals, plants, animals, or hidden archeological artifacts during the various excursions.
Recommended by Ecotourism Greece